Anyone searching for an example of integrated residential design and construction need look no further than Walpole, N.H.–based Unity Homes, which created the 2015 Greenbuild Unity Home for display at the Greenbuild International Conference and Expo in Washington, D.C. The home is a collaboration among BUILDER, Unity Homes, and the Cradle to Cradle Products Innovation Institute, along with support from 30 advisers, sponsors, and product contributors. The project's mission is to reveal how high-quality architectural design, engineering, and construction can be combined with affordable features and state-of-the-art products and systems to maximize a home's performance while enhancing the comfort, health, and security of those who live there.
From Unity Homes' in-house design and engineering teams to its energy and sustainability specialists to its production craftsmen and innovative fabrication technologies, the company is the embodiment of creativity, collaboration, performance, productivity, and control. Every stage of construction, every product spec and installation, and almost every skilled trade that touches each home is contained in Unity's offices and production facilities. This means that every home—at every stage—undergoes precise planning, detailing, scheduling, and assembly.
At the heart of each home is a method company founder Tedd Benson calls "montage"—a term used in several languages to describe the process of aggregating multiple parts into a whole. At the core of Unity's system is its library of modular elements: replicable design patterns and parts, pre-vetted product selections, and pre-engineered construction assemblies.

A Better Way To Build
Unity took montage to a new level in guiding this year's demonstration home. The 2015 Greenbuild Unity Home, based on Unity's contemporary Zūm model, has been built to reach the air-tightness standard used by the Passive House program of 0.6 ACH50, and achieve a HERS Index of 45 (without photovoltaics), making net-zero energy a reasonable target.
The 1,620-square-foot, three-bedroom, two-bath home is expected to achieve net-zero energy, LEED v4 Platinum, Energy Star version 3, and EPA WaterSense and Indoor AirPlus certifications when assembled and tested on its permanent site in New Hampshire. It also will include the largest collection of Cradle to Cradle (C2C) certified building products and furnishings ever assembled for a residential project. But there's another critical filter through which this project had to pass: affordability.
"As dedicated as we are to sustainability and environmental building, and surrounding our homeowners with beauty and craftsmanship, our long-term mission is to drive costs downward without compromising these qualities," Benson says. "It's a hard path, but I can already see that our latest research on building assemblies, systems, and materials pricing is leading us in the right direction." Current pricing for the typical Unity Home is about $150 per square foot for the cold climate package (from concrete slab up); Benson predicts that price will drop below $140 per square foot in 2016.

Sustainability Team
Unity's energy and sustainability specialist Rheannon DeMond led the charge toward the project's ambitious performance and certification goals. Her primary task was to vet suppliers and their products according to sustainability attributes that would contribute toward the project's mission.
"We're always looking for great products that meet our technical requirements for quality, performance, sustainability, and cost," DeMond says. "But our search goes beyond products. We want to work with great companies, and so we look for those suppliers that are also committed to social and environmental responsibilities."
With that in mind, top priority was placed on C2C certified products because it is one of the most rigorous third-party assessment and certification programs in the industry.
"Our process centers on disclosures and optimization," says Stacy Glass, vice president of the built environment at the Cradle to Cradle Products Innovation Institute. "We inventory all ingredients, screen for known chemicals of concern, and conduct full scientific assessments that provide the best information available for optimizing product selections."

Pods and Panels
The journey from concept to reality—and from shop to show floor—ran through Unity's fabrication facilities where digital architectural and engineering plans drive high-tech, high-speed CNC machinery that execute most of the precision material cutting and joinery. The company has developed a hybrid construction and assembly system that maximizes the efficiencies, productivity, and control of off-site fabrication, reduces site assembly labor, and increases speed of completion.
For the Greenbuild Unity Home, two complete pods containing the kitchen, bathrooms, laundry room, and mechanical room were laid out, assembled, and shipped—including cabinets, appliances, fixtures, and finishes. This approach puts the most intense and costly square footage in any home within the controlled environment of Unity's shop and labor force. The rest of the home—floors, walls, and roof—was built and shipped as complete panels with framing, sheathing, subflooring, wiring, insulation, windows and doors, and interior and exterior finishes in place. A typical on-site assembly of the shell on the foundation takes Unity's crews one to three days. Including site-related completion work, a Unity home can be completed in roughly 30 days.


Speed is of the essence in this industry, which is why builders have looked for years at off-site fabrication as a potential game-changer. It certainly was the only feasible way to put a show home together in a matter of days.
"We can build homes in 30 days that will last 300 years," Benson says, "but unless everyone involved in the process is trained, motivated, and encouraged to care about what they do, you can't control that outcome."
Beyond full-team buy-in, this kind of performance requires a commitment to constant improvement. "We work with a degree of healthy dissatisfaction because as proud as we are of our work, we always ask ourselves, 'What did we learn, and how can we do it better next time?'" Benson says. "Homes are so important in people's lives and to our society that we can never rest. It will never be 'good enough' or affordable enough. We can always get better."
Featured Products in the Greenbuild Unity Home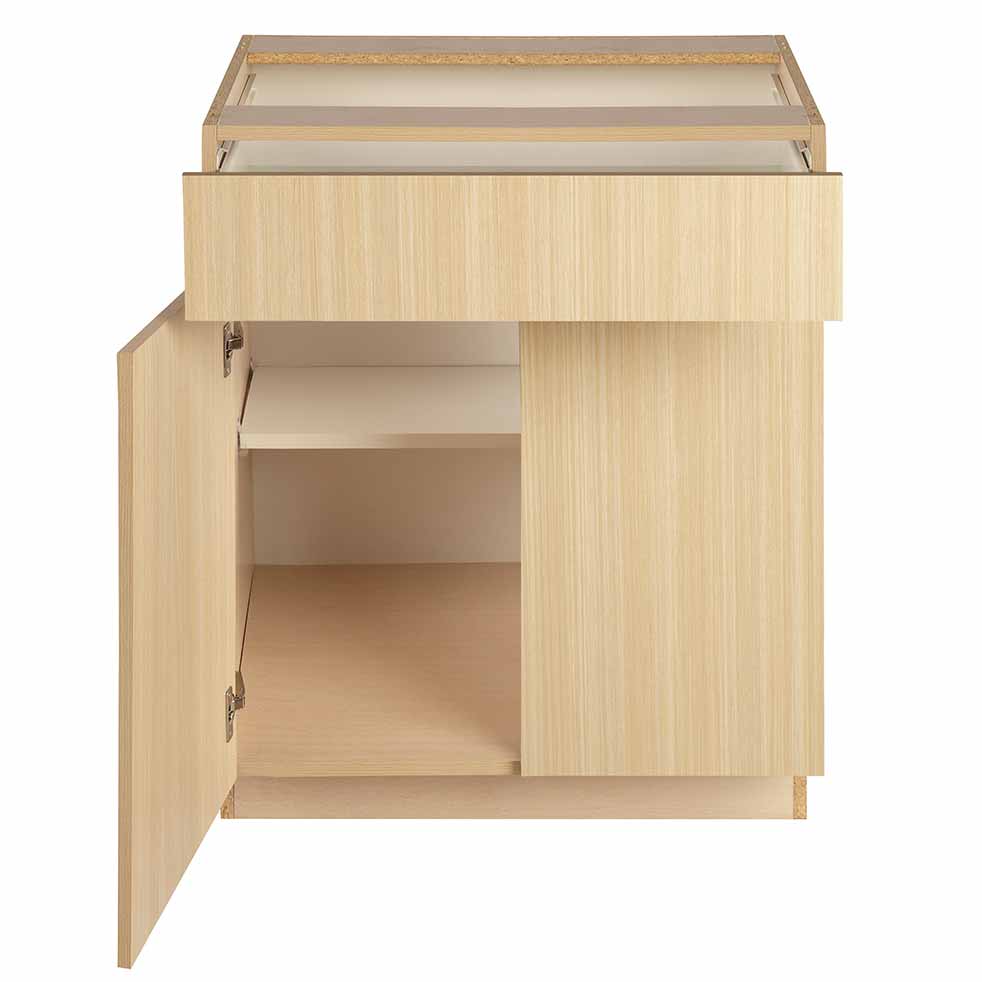 MORE INFO
Product Head
The Studio Full Access cabinetry series offers a sophisticated slab door style featuring textured melamine surfaces that offer a sleek aesthetic and are easy to maintain. The laminate is thermally fused to CARB2-compliant composite panel cores. Doors, drawer fronts, and cabinet boxes use 5/8-inch particleboard, while adjustable 3/4-inch-thick interior shelves feature polyurethane-coated white laminate on both sides and a matching edge band on the front face. The Studio Full Access series is available in vertical Uptown or horizontal Crosstown grain patterns, and a variety of finishes ranging from lighter hues like champagne and seaside used in the Unity Home, to dark brownstone and espresso tones.
Service & Organizations Sponsors
Greenbuild The world's largest conference and expo dedicated to green building gives industry pros a place to hone their skills and share ideas. greenbuildexpo.com
SmithGroup JJR's award-winning designs focus on creating sustainable buildings and communities. smithgroupjjr.com
Softwood Lumber Board This green-minded organization encourages builders to choose wood and benefit from its light carbon footprint. woodnaturally.com
Steven Winter Associates More than 40 years of experience back this staff of building performance and green certification experts. swinter.com
Avid Ratings Beyond quantifying the customer experience, the company introduces the GoTour interactive home tour platform. avidratings.com