Consumers are excited about the possibilities of the smart home, but not necessarily the reality. Right now, controlling the smart home commonly requires consumers to be tied to their smartphone – heaven forbid they leave their phone in another room or (gasp!) it dies. Some systems have control pads wired into a wall at the center of the house with a second unit on a bedside table, but still having to get up to turn on the air sort of defeats the purpose of a smart home.
This next wave in smart home trends is aiming to solve all those problems with voice activation. These five products below are on the cusp of something bigger, and they're all either on the market or set to hit the market in the next several months.
Amazon Echo
The Amazon Echotbvxwqvqdqrqdrafwyrvtdqcrzqtbbcdf is the only smart home personal assistant already on the market. Since its launch in December 2014, this powerful little personal assistant has earned quite a name for itself. Using the Alexa Voice Service – Amazon's version of Apple's Siri – the Echo wakes up whenever a user says 'Alexa' and listens to whatever command comes next. Want to play music before you answer the door for guests: 'Alexa, play Bruce Springsteen.' Alexa now knows 200 skills, and is still learning more every day. The product has a sleek design that can easily fit on a hallway table or bookshelf. $179.99
Moorebot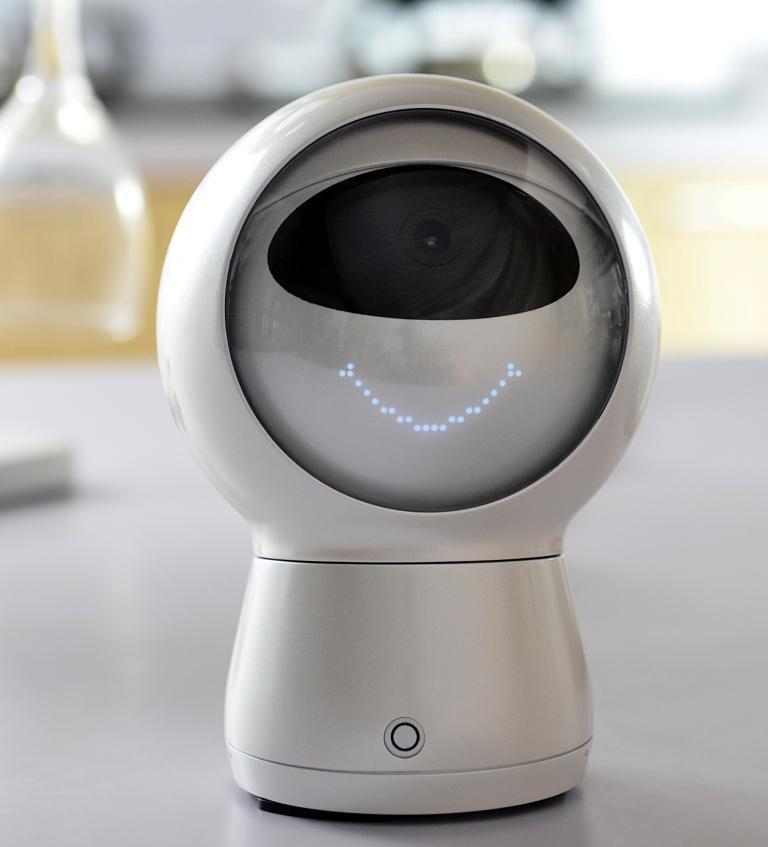 Moorebot is a little bit of a Pixar animation come to life. It's a small device that sits on a counter top or shelf, but has one large eyeball that moves around to watch its users and mimic their emotions. It also has an eye lid that puts the device 'to sleep' for consumer privacy. It also records events through taking photos and videos and allows users to see through the device on their smartphone for security purposes. Moorebot is currently on Indiegogo, where it reached its funding goal in just three days. The product is expected to start shipping in November. $249.99
L.U.C.Y.
L.U.C.Y. is the only personal assistant here that requires wall installation. Its distinctive feature is a large-format screen similar to an iPad that places the controls at the center of the home, or throughout the home if a user installs multiple units. It's still equipped with a microphone for voice-activation, making it key to the household. LUCY is the artificial intelligence that interprets user's commands. The fixed screen is also meant to act as the new refrigerator door: it can display photos like a digital picture frame or leave notes for other family members. It learns, sees, hears, and connects to other devices like the other personal assistants. L.U.C.Y. is launching a Kickstarter campaign on September 5th, offering its first 6,000 devices at a 35% discount from retail. The product is expected to ship at the end of 2016. $699
Google Home
There isn't much information on Google Home, yet, other than it exists and should be on the market by the end of 2016. So far, the device sounds like it will be similar to the Amazon Echo, though Google's executives will tell you it's going to be better at its job. It will sit on a table or bookshelf and listen to commands throughout the home. It'll play music with clear quality and strong bass, and comes with different colors to match the device to different home décor. It will control different smart home devices, even plug into the TV to play YouTube clips. It can also speak to the various other Google Homes installed in the house. There is no price information yet.
Zenbo
ASUS introduced Zenbo in May as the first personal assistant robot that actually moves around the home and interacts with users. Like a little tablet on a giant ball that rolls around, Zenbo has an emotive face and displays books, videos, games, and other visuals. It's set up to know if someone falls and will alert other users' phones, read recipes to the family chef, and remind users of appointments as they're walking out the door. ASUS is opening its platform to developers in hopes it can help create more useful programs for the device. It is the only device thus far to physically move around the house instead of staying in a static position, though. Some may find it clever, like a family butlertbvxwqvqdqrqdrafwyrvtdqcrzqtbbcdf, others might find it just creepy. ASUS plans to release Zenbo next year. $599