Since the launch of the BUILDER-Metrostudy Demand Index in Fall 2014, the majority of regional directors in Metrostudy's 32 markets have cited the cost and shortage of new building lots as a major roadblock for builders. That sentiment has intensified in 2016, as the average lot demand score for all markets has risen eight consecutive months. In May 2016, the average lot demand score was 7.22 on our 10-point scale, a 7.92% increase from 2015.
Builders in certain U.S. regions are worse off than others. The average lot demand score for Metrostudy's 12 western markets (7.5) is higher than any other region and has increased 25% since May 2015. Demand for new building lots is also high in southern
markets, but May 2016's average score (7.17) represents the same level of demand seen a year prior.

In May, the NAHB revealed that builders are facing the largest lot shortage on record since 1997. In total, 64% of builders report "low" or "very low" lot supply in their markets, but the West is the most difficult region for development by far—the amount of builders reporting "very low" supply is nearly double the amount reported in the Northeast and Midwest.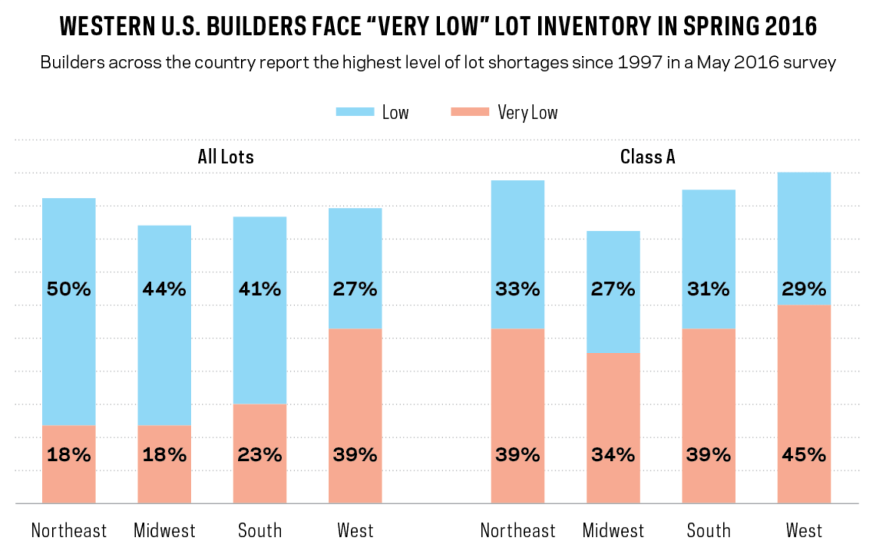 Each market in the West faces unique challenges in regard to lot shortages. In Denver, tighter regulations are doing nothing to ease the backlog of new development, while in Dallas-Fort Worth, labor constraints are adding three to six month delays to lot deliveries. In Las Vegas, builders face land prices near peak levels, but home prices haven't caught up. Central California is the only western market oversupplied with lots, in contrast to the Bay Area and San Diego, where some builders have given up looking because land opportunities are so limited.
According to May new residential construction data, 1-unit starts increased in every region except for the West (-4.8%) year over year. The region's significant decrease in new-home construction activity, paired with the "very low" supply of lots reported by builders, suggests that lot supply is now so tight that it will hinder further growth and
recovery in the West.