News & Opinions
The latest news and insights from Hanley Wood's outspoken experts and key thought-leaders throughout the residential and commercial design and construction industry.
A Map Of America's Future: Where Growth Will Be Over The Next Decade
Joel Kotkin and Mark Schill / new geography / September 4, 2013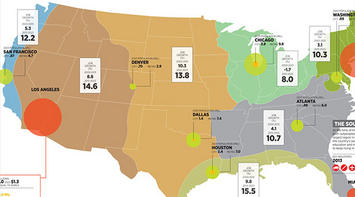 The world's biggest and most dynamic economy derives its strength and resilience from its geographic diversity. Economically, at least, America is not a single country. It is a collection of seven nations and three quasi-independent city-states, each with its own tastes, proclivities, resources and problems. These nations compete with one another – the Great Lakes loses factories to the Southeast, and talent flees the brutal winters and high taxes of the city-state New York for gentler climes – but, more important, they develop synergies, albeit unintentionally. Wealth generated in the humid South or icy northern plains benefits the rest of the country; energy flows from the Dakotas and the Third Coast of Texas and Louisiana; and even as people leave the Northeast, the brightest American children, as well as those of other nations, continue to migrate to this great education mecca.
The idea isn't a new one – the author Joel Garreau first proposed a North America of "nine nations" 32 years ago – but it's never been more relevant than it is today, as America's semi-autonomous economic states continue to compete, cooperate … and thrive. Click on the thumbnail of our map to see our predictions for the job, population and GDP growth of these 10 regional blocks over the next decade, and read on below for more context.
View the map graphic at Forbes.com.
INLAND WEST
The Inland West extends from the foothills of the Rockies to the coastal ranges that shelter the Pacific Coast. This is the West as we understand it historically, a land of spectacular scenery: icecaps and dry lands, sagebrush, high deserts and Alpine forests. From 2003 to 2013, it enjoyed the most rapid population growth in the nation: 21%. It is expected to continue to outgrow the rest of the country over the next decade, as the area boasts the highest percentage of young people under 20 in the U.S.
Much of this growth was driven by a combination of quality of life factors — access to the outdoors and relatively low housing prices — as well as strong economic fundamentals. Over the past decade the area has enjoyed nearly 8% job growth, the strongest in the country, with the highest rate of STEM growth in the nation over the past decade.  Boise, Denver and Salt Lake City have posted stellar employment growth due to the energy boom and growth in technology. The western reaches of the region — the inland parts of Washington, Oregon and California — have not done as well. These areas suffer from being "red" resource- and manufacturing-oriented economies within highly regulated, high-tax "blue states."